Organize and Automate Debt Court Cases
Easily prepare, print, and manage all the legal documents needed to process warrants, unlawful detainers, and garnishments that are required by the courts. Ideal for payday loan companies, check cashing, leasing & property rental collections, auto loans, home furnishing rental, lines of credit, title loans, installment, and other small lending products. This is a crucial tool for collection attorneys, leasing agents and small loan companies.
Learn More!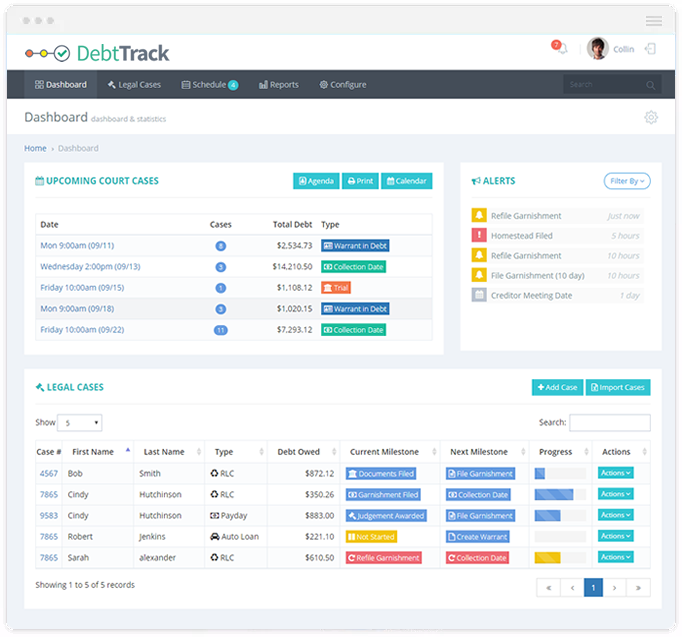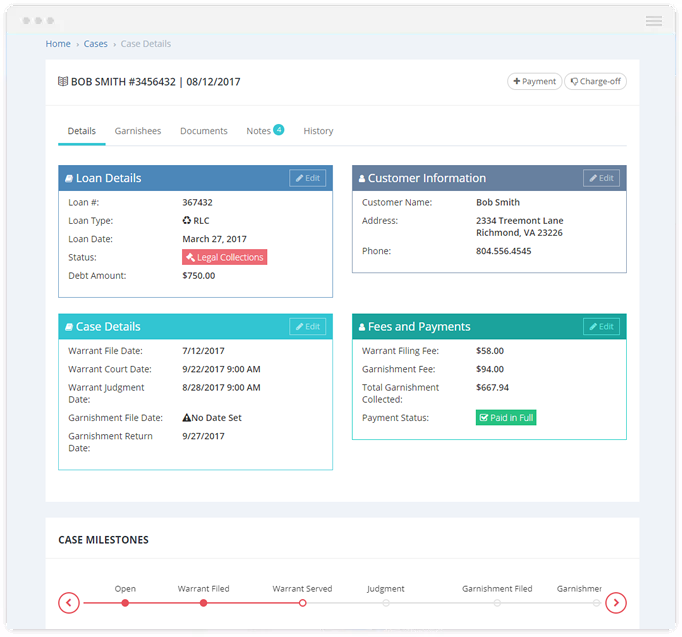 Legal Debt Case Milestones
Track the entire legal debt collection process with easy-to-follow Milestones, calendars, printable court agendas, and dynamically created filing forms (Warrant in Debt, Summons For Unlawful Detainer, Garnishment, Soldier Affidavit, Certificate of Satisfied Judgment).
Warrants (DC-412), Garnishments (DC-450, DC-451, DC-456), Summons, Unlawful Detainers (DC-421), Soldier Affidavits (DC-418), Notice of Satisfaction (DC-458), Affidavit for Service of Process on the Secretary of the Commonwealth (DC-410), and other official legal documents are easily generated. Once the data is entered into the system you no longer need to worry about typos.
Why we did it:
"We had papers and folders everywhere; handwritten documents and quite a mess on our hands with legal debt cases. Now any of our employees can easily go from warrant to paid-in-full using Debt Track."
Automatically Create Court Documents
Stop filing out documents by hand. Mistakes cost additional filing fees and will lead to rejections which significantly lengthens the court date, and process, and incurs additional time and charges. Remember, time is money. Debt Track dynamically creates each document precisely filled-out from your customers data. No more photocopying or "losing" original filing documents, print as needed.
Why we did it:
"Creating these court documents was a nightmare for us. No matter how hard our team tried there were always a few mistakes a month. Now we just click print and then sign."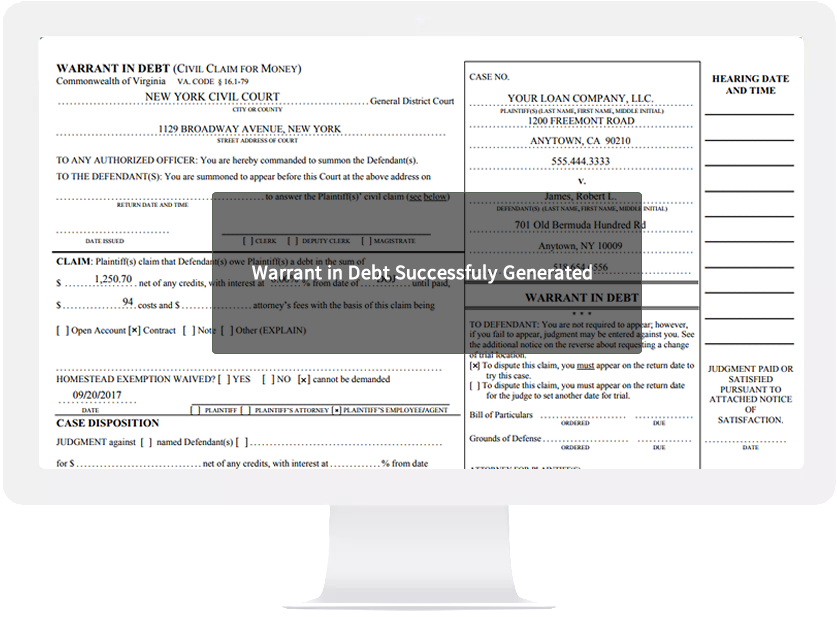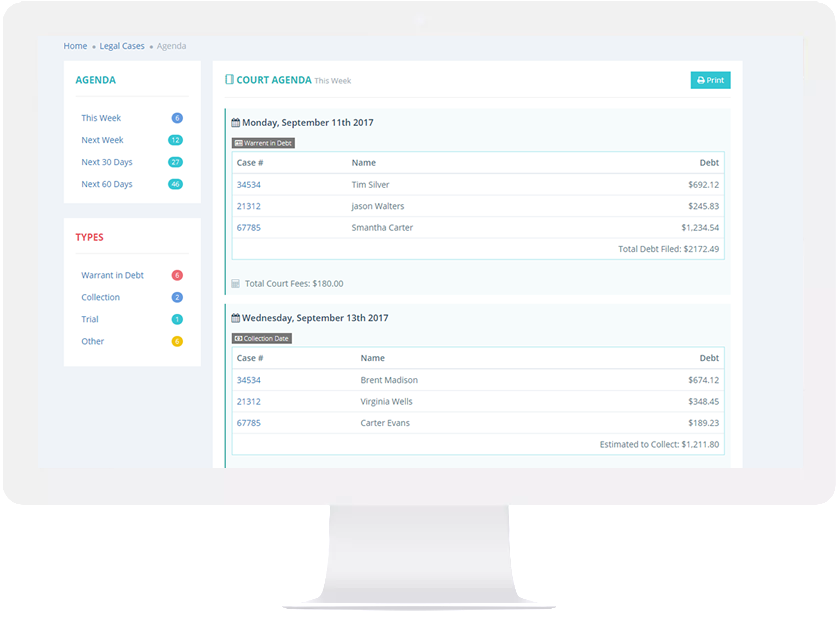 Weekly Court Agenda on your Smartphone
Never miss another case again with easy-read, printable court agendas, also viewable on your smartphone. Debt Track automatically creates a weekly, 60 day, and 90 day agenda that's printable and acts as a tracking sheet. The agenda also has room to take notes and it even shows your next dates in that court for reference. A docket list can also be printed for the court clerks as well as for your own tracking.
Why we did it:
"Most of the courts don't allow electronic devices. The printed court agenda keeps all of my cases for the day organized and it has room for me to write notes and updates. I like being reminded of my weekly cases by an email on Sunday evening."
About the Debt Track Team
Our team aims to make the Legal Debt Collection process as easy, accurate and efficient as possible for your team. By using modern technology coupled with industry-proven usability best practices, we help our customers save time and money everyday and it makes us smile. Debt Track started as a successful internal platform that many of our partners asked us to release to the industry so other business can take advantage of its amazing capabilities.
Our Blog